Real world businesses are constantly evolving and so are their trade show exhibiting needs.  Often, a company's growth demands an increasing presence on the trade show floor. Utilizing strategic design and planning, building on a solid foundation and incorporating a steady approach allow companies of all sizes to grow their trade show presence and business in an intelligent way.
DisplayCraft has partnered with Thames & Kosmos since 2008 and we are proud to be part of the evolution of their trade show program and business.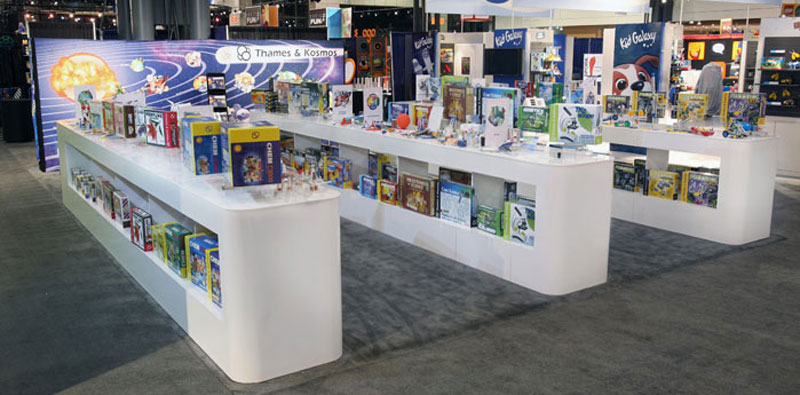 From Humble Beginnings
Thames & Kosmos's first custom exhibit designed and fabricated by DisplayCraft was a 20' x 30' peninsula configuration which served as the foundation for their growing trade show presence. Three elegant, illuminated display counters anchored the space and showcased their eye catching colorful products. A simple pop-up display graphic created both corporate branding and a partition to the adjacent booth. The exhibit debuted at the International Toy Fair, Javits Center in New York City.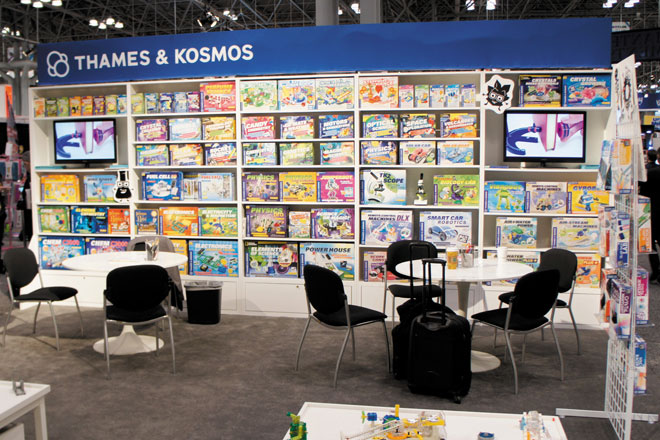 Toy Fair 2011
Thames & Kosmos's growing product lines and assortment of science kits facilitated the need for more display and storage space. The first big change was upgrading the pop-up display graphic wall with a series of shelves and hard wall panels to house more sample products.  The introduction of monitors added areas for looping product demonstrations.
Toy Fair 2014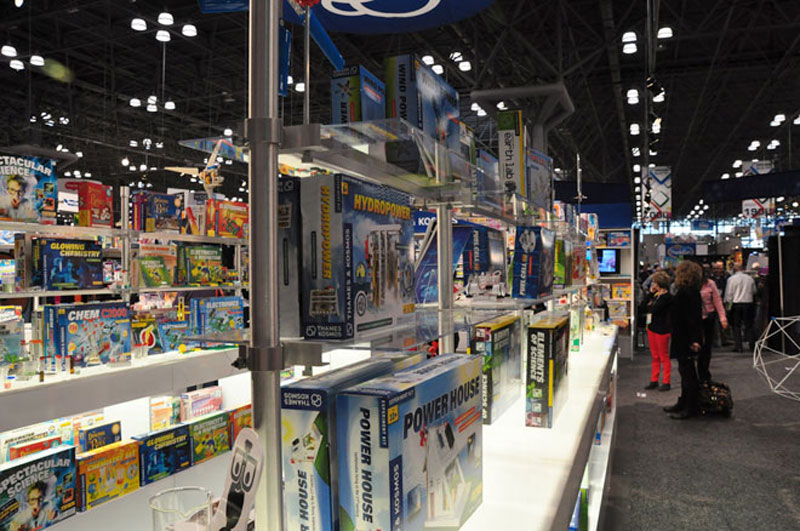 With continued growth, Thames & Kosmos unveiled a larger 20' x 40' peninsula booth for the Toy Fair'14 show. Conference seating for order fulfillment was created with the additional 10' of floor space. The illuminated counters were retrofitted with a series of vertical custom Plexiglas shelving units expanding their display surfaces three-fold. The added shelving system provided flexibility for product merchandising while maintaining the elegance of the original booth design
Toy Fair 2015
DisplayCraft designed, delivered and installed the latest update of Thames and Kosmos's trade show exhibit for the 2015 Toy Fair show.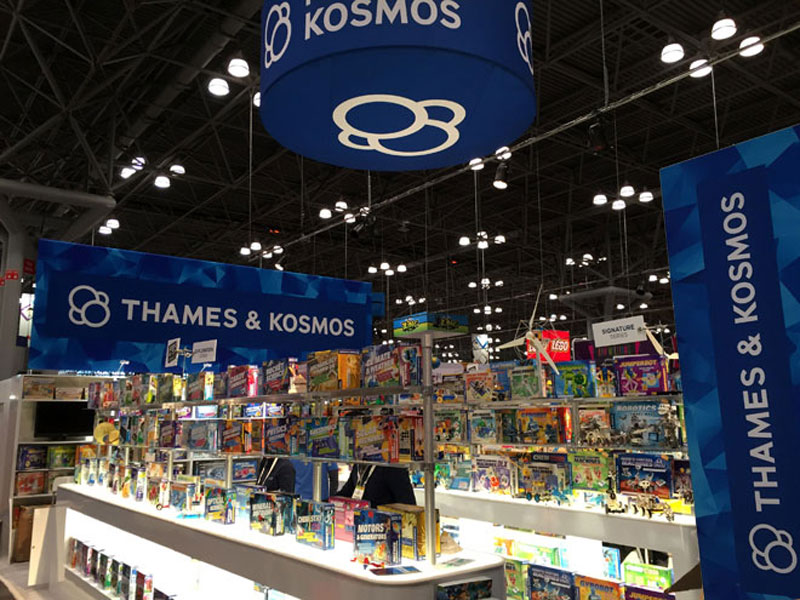 The larger 20'x50' peninsula created big brand presence with the addition of impactful graphics displaying their corporate colors and logo. A newly constructed conference room provided private meeting space for unveiling select exclusive products.  Small wood top tables were added to showcase 26 new science kits and 6 new board games.
Evolving for the Future | an Increasing Presence on the Trade Show Floor
Like magic, the Thames & Kosmos peninsula trade show booth has transformed from humble beginnings into the majestic showcase for their brand and products that it is today. Each successive year, Thames & Kosmos builds on the solid foundation created back in 2008 and continues increasing their presence on the trade show floor. With ToyFair 2017 in sight, stayed tuned for what should be another successful show!
For more information regarding the history of Thames & Kosmos visit  http://www.thamesandkosmos.com/index.php/t-k-history